Hi pandas,
how are you doing? For me, my second year in my Masters program will start very soon. Time is flying.
Today I bring you a very, very long overdue review of the Cosrx Sleeping Packs, namely the Ultimate Moisturizing Honey Overnight Mask and the Ultimate Nourishing Rice Overnight Spa Mask
What they say:
Honey: Enriched with more than 85% of propolis extract, and natural bees wax, this mask provides intensive hydration with refreshing moisture.
Rice: Enriched with more than 65% of rice extract, this mask provides intensive nourishment with deep moisture and brightening.
Ingredients:
Honey: Propolis Extract, Butylene Glycol, Glycerin, Betaine, 1,2-Hexanediol, PEG-60 Hydrogenated Castor Oil, Arginine, Cassia Obtusifolia Seed Extract, Dimethicone, Ethylhexylglycerin, Carbomer, Sodium Hyaluronate, BeesWax, Allantoin, Panthenol, Sodium Polyacrylate, Adenosine
cosdna
Rice: Oryza Sativa (Rice) Extract, Butylene Glycol, Glycerin, Helianthus Annuus (Sunflower) Seed Oil, Betaine, Niacinamide, Dimethicone, 1,2-Hexanediol, Cetearyl Olivate, Sorbitan Olivate, Elaeis Guineensis (Palm) oil, Elaeis Guineensis (Palm) Kernel Oil, Hydroxyethyl Acrylate/Sodium Acryloyldimethyl Taurate Copolymer, Cetearyl Alcohol, Ethylhexyglycerin, Arginine, Carbomer, Allantoin, Xantham Gum
cosdna
Cosdna didn't show any large red flags for both products. I didn't break out from them either, but as always, be careful and look out for ingredients that your skin doesn't agree with.
When Cosrx came out with these sleeping packs, I immediately ordered them and have been using both of them regularly since then.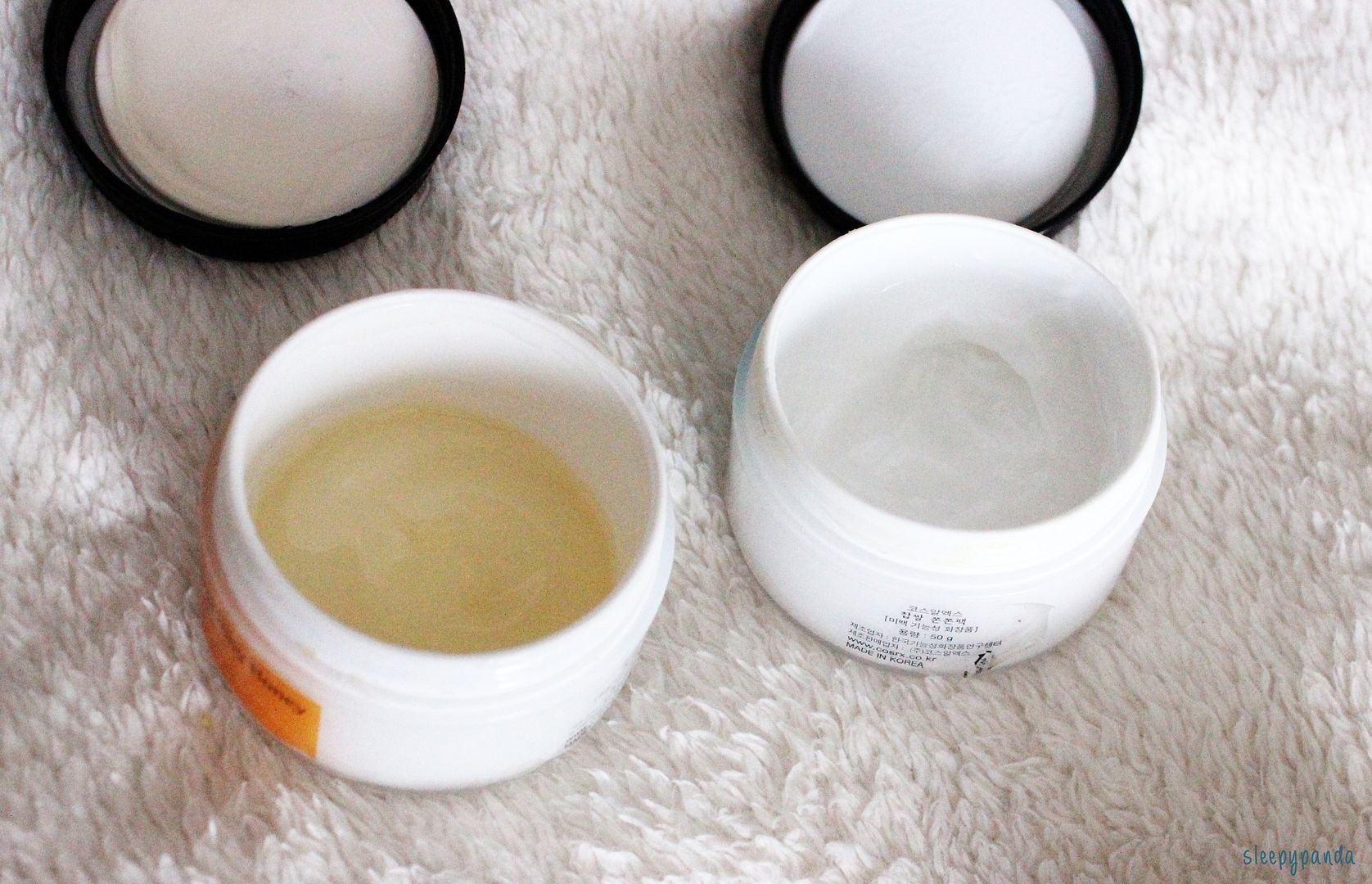 The packaging of both is
very simple and very much "Cosrx-like"
. It has a white plastic packaging with a blue (rice version)/ orange (honey version) sticker and a black cap. The cap of the honey one is not really closing sometimes, that's kinda meh.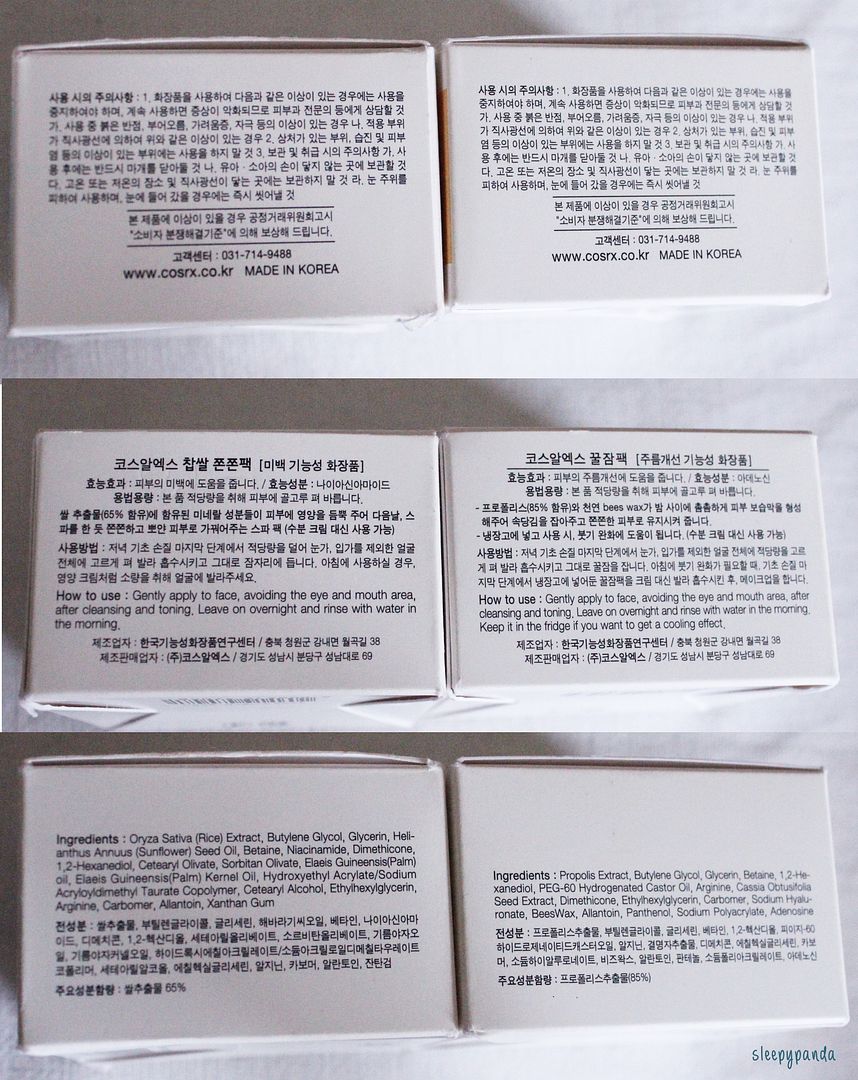 The consistency of both is rather different. The
honey one is an orangy, rather sticky gel
while the
rice one is a white cream.
The rice one does feel a tad bit richer but both absorb rather fast.
I
can't really notice any strong or distinctive scent
for both of them, maybe a bit "creamy".
I have been liking the honey mask on days when I had a bit of trouble with my skin and the rice one when I felt like I needed some extra moisture.
Both made my skin feel smooth and very nice in the morning
and
both feel light
enough for me to not feel like my skin is "suffocating" under the product, especially in awfuly humid summer in Japan. I couldn't really see a lot of brightening with the rice version but I didn't buy it for that purpose so I do not really mind.
Pros: lightweight, absorb fast, moisturize well

Cons:could be "too boring", the cap of the honey one doesn't fully close
Overall: 4.5/5