Hi pandas,
how are you doing?
I realized today that I have about one month left before I move to Japan. And there are still so many things to do. It just feels so unreal.
Anyways, today I'll give you a review of a product that I haven't seen people mention a lot:
What they say:
creates a powerful shield to protect skin from UVA/UVB rays and supporting a blemish-free complexion.
Ingredients:
Water, Zinc Oxide, Caprylic/Capric Triglyceride, Cetearyl Alcohol, Isoamyl Laurate, Butylene Glycol, Silica, Titanium Dioxide , cyclopentasiloxsane, GlycerylIsostearate, cyclohexasiloxane, 1,2-Hexanediol, Cetearyl Glucoside, Sodium Stearoyl Glutamate , Aspergillus/Saccharomyces/Rice Ferment Filtrate, Sophora Japonica Flower Extract, Sasa Quelpaertensis Extract, Platycodon Grandiflorum Root Extract, Anemarrhena, Asphodeloides Root Extract, Polyhydroxystearic Acid, Polysorbate 20, Bisabolol, Citric Acid, Tocopheryl Acetate, Caprylyl Glycol, Magnesium, Aluminum Silicate, Ethyl Ferulate, Xanthan Gum, Glycerin, Caprylhydroxamic Acid, Propanediol, Liquiritigenin, Ascorbyl Tetraisopalmitate, Phenoxyethanol
Ciracle claims that this sunscreen is perfect for people with sensitive skin and the cosdna analysis seems to support this claim. You might still react to one/some of the ingredients though.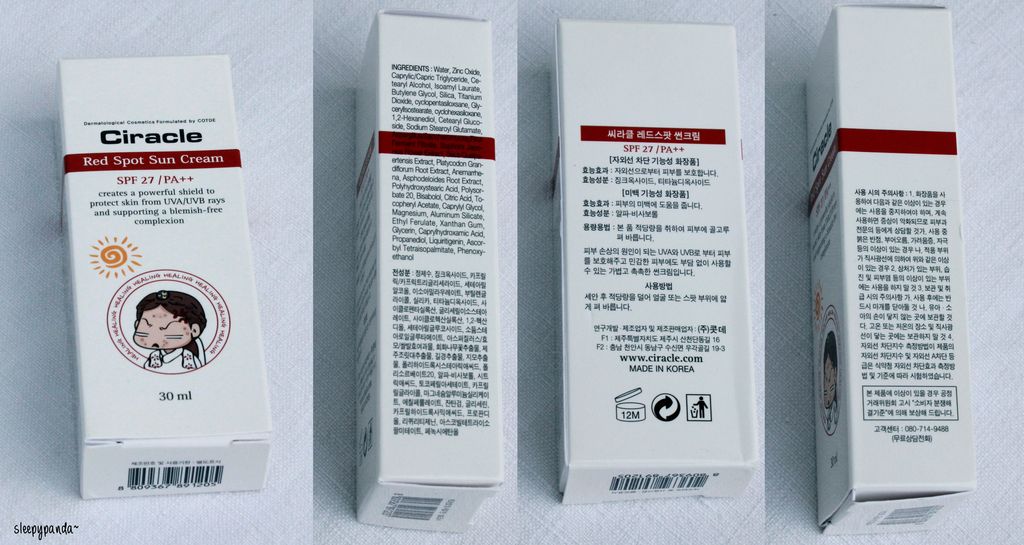 package with a lot of Korean and ingredients in English
I'm a religious user of sunscreen. While this leads to regular being ridiculed and laughed at by colleagues, I wouldn't leave the house with sunscreen anymore.
I use chemical peelings (AHA and BHA) as well as a Vitamin C Serum so sunscreen is a must.
Even if you do not have skincare products with active ingredients in your routine I would strongly advise to wear sunscreen everyday.
There are two types of UV filters used in sunscreen: chemical and physical
.
I'm not an expert at sunscreen and UV filters, so I will leave it to
this site
to explain the difference.
As you can read there most sunscreens do consists of a combination of physical and chemical UV filters. However some people react to chemical UV filters and have to find physical-only sunscreens.
This one here is such a physical-only sunscreen (if I'm not blind and overlooked a chemical UV filter).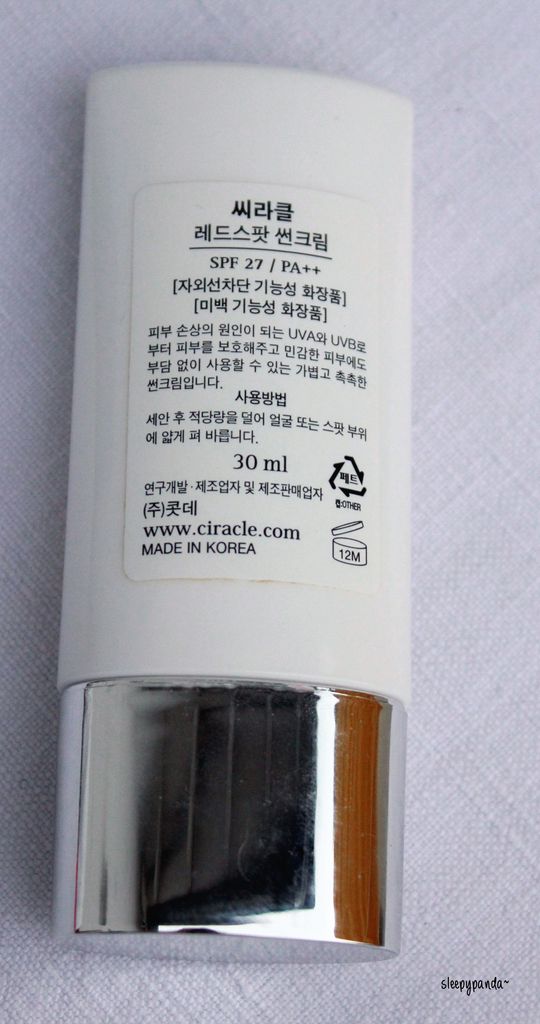 The product comes in a nice
white plastic packaging with a shiny silver cap.
My favourite thing is definitely the little person on the front of the paper packaging as well as the plastic bottle. I feel so related to her/him, this is how I look (suffer?) whenever I have to be in the sun for a longer time XD
The plastic bottle is a squeeze bottle.
I neither love nor hate squeeze bottles so I'm fine with it.

sunscreen - while blended - fully blended
The product itself is a
slighty off-white cream that looks rather heavy and pasty.
The first time I squeezed it out I though "shit, this is way too heavy for my skin".
While it does spread nicer than I assumed from the first look it still feels a tiny bit heavy after spreading it.
This may be due to it being a physical-only sunscreen.
It does have a
really strange scent.
It's not as strong as to make me stop using it but it's not a really nice scent. Thankfully it vanishes quite soon.
This might be due to a little mistake while delivering though. I still had my old adresse saved at roseroseshop and noticed too late. When I tried calling DHL they said "we'll see what we can do" but in the end they send it back. So my package was on route for almost 2 months. Maybe the sunscreen suffered a bit?...
left: naked face right: sunscreen applied
I'm trying to use the suggested amount of 1/4 - 1/2 teaspoon but
couldn't detect any whitecast.
I was initially intrigued by this sunscreen because anything that promises to fight against blemishes and/or redness is automatically interesting to me.
My first complaint would be that it feels a bit too heavy on my skin.
I know this is probably no wonder since it's a physical-only sunscreen but for some reason I cannot stand heavy formulas on my skin. It makes me feel physically bad. With the Ciracle Red Spot Suncream it was still okay and bearable but I would probably use this rather in winter than summer.
Second complaint: the rather low SPF.
27 might sound high to some but I prefer to have 35-50, especially in summer. I didn't get any sunburns (yay!) or tanned until now but still. Another reason to make this my winter sunscreen.
Lastly, this product also claims to support a blemish-free complexion.
While it didn't break me out it didn't help to fight blemishes either.
For the past two or three weeks my skin has been going worse since I stopped taking birth control, constant stress with visa/apartment search & bad diet. I know that I shouldn't expect my sunscreen to actively fight any breakouts but one can dream, right?
Other than that I must say I'm quite satisfied with this product.
Hearing horror stories about physical sunscreens (total, horrible whitecast and pasty consistency that is almost un-spreadable) I was more than pleased than this is a product that is definitely usable.
While it certainly doesn't feel as nice and light as my Innisfree sunscreen I will definitely go back to it when it's getting colder and a more heavy consistency is welcome.
For now I will put this baby in the fridge and test my newest sunscreen baby: Tonymoly Magic Food Mango Sunscreen.
Pros: spreads quite nicely for a physical-only sunscreen, no whitecast, good "first-time" experiencing a physical-only sunscreen

Cons: feels a bit too heavy for summer, "only" SPF27, didn't help with blemishes, strange smell
Overall: 3.5 / 5