Hello pandas,
how are you doing?
Despite being heavily busy with scholarships, apartment hunting, packing and finishing all the left-over tasks at my internship I actually managed to get around to type this review. I hope you forgive me if I'm writing non-sense somewhere along the way, I'm quite exhausted lately.
Anyways, on to the product:
What they say:
Whitening / UV protection / anti-wrinkle Functional Cosmetics Expression of moist and glazed skin Expression of smooth skin pores Care Add an Anti-wrinkle Function. Long lasting without darkening Expression of a clear skin as cover virtually grain.
Ingredients:
I'm lazy today so instead of typing all the ingredients, here is a cosdna link. A few potential acne triggers but as always, cosdna is not all-knowing.
Unless you have been living behind a rock you are probably well aware that Cushion Foundations are pretty popular in the Korean/Asian beauty world.
I was reluctant for quite a while as to which Cushion to buy, since there are so many on the market.
After a lot of researching and googling and reading what felt like a million reviews on Cushion foundations,
I finally decided on this baby: The IOPE Air Cushion XP in N21 Ice Vanilla.
This Cushion is one of the most popular Cushions on the market so I thought I couldn't do wrong.
It is a bit on the pricier side (at least for me as a poor student) but it's definitely worth the price!!
The Cushion comes in a really pretty dark blue box with golden lettering. Only the very top is in silver.
It already gives off the vibe that you are holding a product that costs more than only a few bucks.
The only downside:
You can see every little fingerprint on this packaging
. It is most visible in broad daylight (like in these pictures) and quite annoying. After this review I'll probably throw it away but it's still a bit annoying.
Inside the packaging you can find the actual Cushion, a refill and a leaflet containing information on the product.
The
leaflet contains information in Korean, Chinese and English
. The Chinese and English is a litte less than the Korean but at least it's there. Makes me feel good that they think about their international customers as well.
The leaflet explains how to use the Cushion, how to refill it and also tells us about all the fancy ingredients like Mineral Water, Siberia Peptide 6 and pore elastomer.
The
actual Cushion comes in a white, round case with a silver edge and the brand name IOPE printed on the top.
I really like this design, classy, not too girly and not being too boring. It might be a bit bulky to carry around but for someone like me who carries their whole household with them that's no problem.
Upon opening the case you find a
mirror (that I never manage to keep clean) and the puff to apply the foundation.
Mine is a bit dirty because I'm clumsy and got the foundation on the upper side. Normally it is pretty and white.
And now onto the real thing, the Cushion!
The actual cushion has fine pores and does dispense exactly the right amount of product.
Here you can also see the bottom side of the puff. The puff is made out of a special material that has antimicrobial properties, called the rubycell technology.
If you think about the fact that you put the puff in the foundation, on your skin and then back in the foundation this is a really important point about this product.
Once you open the case you will notice one thing: This product definitely has a
quite strong scent.
I don't mind the scent - actually I quite like it - but people with sensitive noses might be put off by it.

naked face - Cushion - Cushion + concealer and powder - full-face make-up
But how does it perform?
Let me tell you, I'm in love.
The application is so easy!
No dirty fingers, no dirty brushes, just pat away.
The color is perfect for me
(I just realized that I forgot to include a swatch picture...will do that tomorrow)
and the
foundation feels so light
.
The coverage is not the best but IOPE also has a "Cover" version of this foundation.
I personally am totally satisfied with this "Natural" version. I just use concealer on any imperfections that it can't cover and I'm good to go.
The
finish is truly "natural"
. It's dewy but not too dewy. I generally powder my T-zone because I tend to get a bit oily there but I never felt the need to powder the rest of my face since the finish was so nice.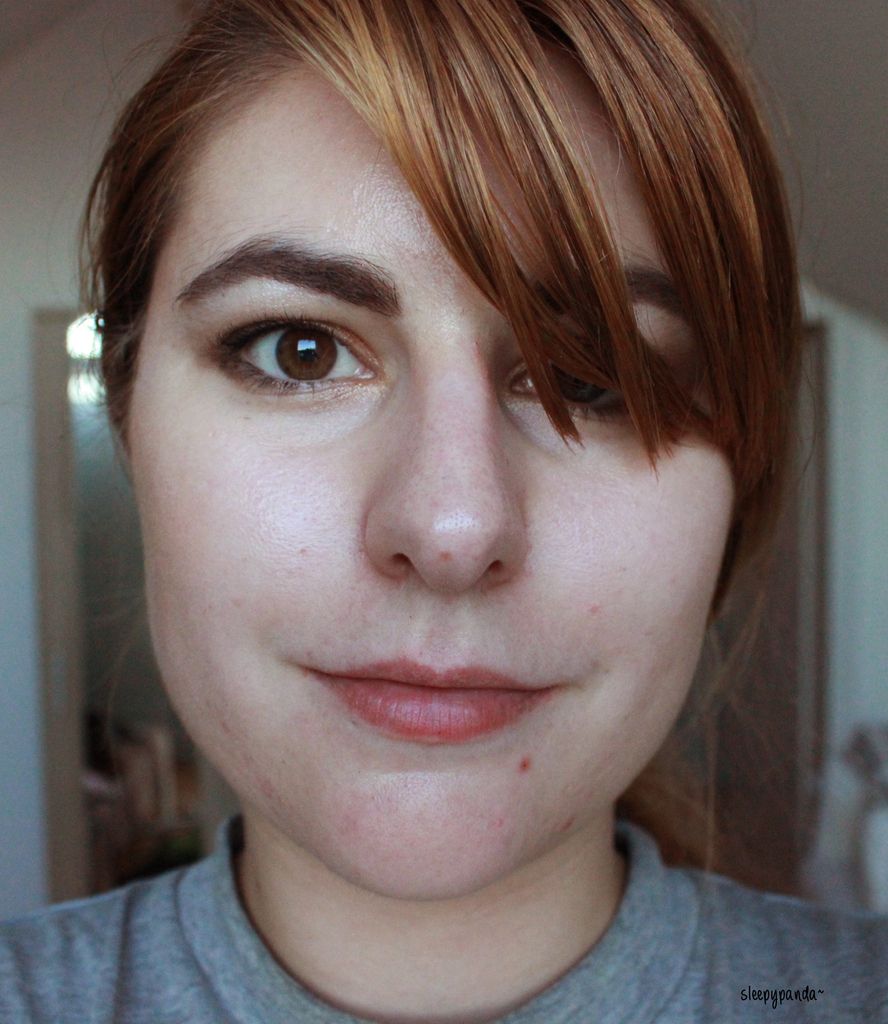 After 5,5 hours
It also holds up quite well.
I'm someone that ofter touches her face (bad habit, I know) and no foundation can hold up to that but the IOPE Air Cushion XP deals quite well with heat, wind, sweat, etc.
After 5,5 hours without retouch I still don't look too bad. With touch ups every now and then this should pretty much take you through a whole day.
This product also claims to have sun protection abilities. Since I use a seperate sunscreen and do not really believe in such claims when coming from make-up products I'm quite indifferent to the sunprotection value of this product.
My only complaint would be that I feel like this runs out quite quickly,
especially since it isn't the cheapest Cushion out there. But that might be because I used it non-stop for 2-3 months in winter since I loved the feeling and finish so much...
Pros: color is a perfect match for me, lightweight, natural finish, easy application, long-lasting

Cons: scent might be too much for some, quite pricey, runs out quickly
Overall: 4.5 / 5