Hi pandas,
How are you doing? I'm currently enjoying my spring vacation with a lot of sleeping. A looot of sleeping XD Hopefully I'll be able to do some exciting sight-seeing and travelling as well until university starts again.
Now onto a new review
What they say:
Dual functional essence which helps to tonify the skin.
+ Whitening
It contains the whitening ingredient, niacinamide so it makes your skin brightening.
+ Improving The Wrinkle
It contains the anti-wrinkle ingredients, adenosine so it helps to improve the wrinkle of your skin.
Ingredients:
Purified Water, Glycerin, Olive Oil, Caprylic/Capric Triglyceride, Niacinamide, Cetearyl Alcohol, Glycosyl Trehalose, Hydrogenated starch hydrolysate, Glyceryl Stearate, PEG-100 Stearate, Dragon Blood Resins Extract 33mg, Hydrogenated lecithin, Dimethicone, Allantoin, Dipotassium Glycyrrhizate, Sodium Hyaluronate, Adenosine, Betaine, Triethanol amine, Carbomer, Acetyl Hexapeptide-8, Strawberry Extract, Pomegranate Extract, Ginseng Extract, Aloe Vera Leaf Extract, Boswelia Serrata Resin Extract, Caprylhydroxamic acid, Caprylyl Glycol, 1,2-Hexanediol, Butylene Glycol, Red No. 002, Tocopheryl Acetate, Spices
Cosdna shows a red 2 for a few ingredients but nothing too dramatic.
It is worth noting that this product does not contain (bad) alcohols, which was one of the reasons for me choosing to buy it. It does contain Cetearyl Alcohol, which is considered a fatty alcohol. My skin doesn't like (drying) alcohols but is okay with fatty alcohols. If you can't tolerate fatty alcohols well, this product might be bad for you however.
I think I have written about this before on here but when I arrived in Japan in fall last year my skin was horrible. All the stress, change in climate, change in diet, etc. made me break out and for a few months my skincare concentrated around calming those stupid pimples (combination of Tosowoong essences, Cosrx A-sol and Cosrx Honey Mask helped, yay!).
But as all of you probably know, the story with breakouts doesn't end with the active pimples calming down. After that comes the probably even more
difficult task of getting rid of those nasty marks
.
I do currently use a Vitamin C product (Melano CC Serum) but I'm not really satisfied with it. So I decided to order a few essences/serum/ampoules to "upscale" my routine.
The first one I decided to try was the Secret Key Dragon Bloody Essence since it does advertise whitening.
The essence comes in this
really beautiful bottle.
Seriously, this is probably one of my favourite bottles, ever! The outer packaging is a dark red at the top fading into a lighter red at the bottom. There's a lot of Korean text and a short description in English on the front.
The actual bottle is made out of glass and also has a fading design. It is
dark red on the top and clear on the bottom
which makes for a nice look since the product is a light pink. The cap is plastic which is a bit sad but at least clumsy me won't break it.
As said, the
product is a light pin
k, looks pretty cool but don't worry it goes on clear once you start spreading it. It has a
very light texture
which I love. I cannot stand heavier products on my skin but this turns very liquidy once spread and
sinks in very fast
.
The product has a scent that it is not easy to describe (maybe I just suck at descriptions of scents). Closest would probably clean/soapy? It is however not too strong and vanishes pretty fast.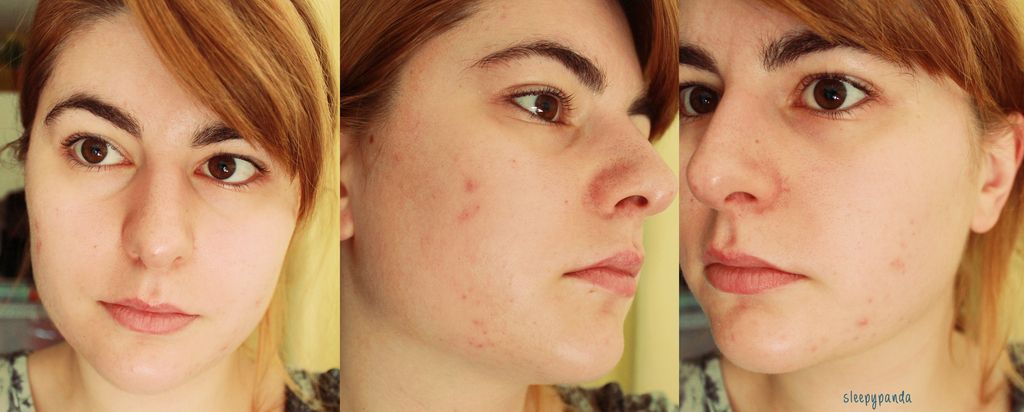 Before starting the essence
After 2 weeks
After 4 weeks
Now onto the actual effects of the essence.
I can't say much about the anti wrinkle effects, we'll see how I'll look in 20 years XD
The
whitening effect positively surprised me
. To be honest at first I didn't think it was doing much, looking at my face in the mirror everyday. But after looking at the pictures, I'm really satisfied!
As you can see in the first picture, the marks were more than visible on my skin. Now, they aren't gone 100% after 4 weeks but it looks so, so much better. Of course, having the marks vanish in a few days would be perfect but that may stay a dream for a while.
For now, I'm
really happy with the results of the essence, especially considering how lightweight it is
. I'll definitely keep this guy in my routine!
Pros: visible whitening effects, lightweight, sinks in fast, awesome design

Cons: smell could be too much
Overall: 4.5/5